Prayers of Devotion to Mary, Help of Christians
Return to Catholic Prayers
Devotional Prayer List
Novena Prayer List
1. Prayer in Time of Need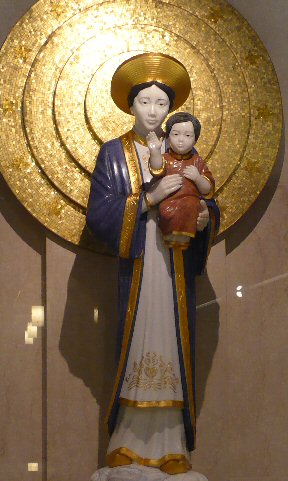 Most Holy and Immaculate Virgin, Help of Christians, Mother of the Church, we place ourselves under your motherly protection. We promise to be faithful to our Christian vocation and to work for the greater glory of God and the salvation of our souls and of those entrusted to us.
With faith in Your intercession, we pray for the Church, for our family and friends, for youth, especially those most in need.
You were St. Bosco's teacher. Show us how to imitate his virtues: especially his union with God, his chastity, humility, and poverty, his love for work and his temperance, his goodness and total giving of self to others, his loyalty to the Holy Father and to the Church.
Grant, O Mary, Help of Christians, the graces in which we stand in need, (state your request). May we serve God with fidelity and generosity until death. Help us and our dear ones to attain the boundless joy of being forever with our Father in Heaven. Amen.