Prayers of Devotion to Mary,
Our Lady of LaVang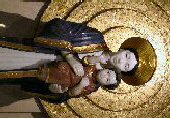 1. O Mary, Holy Mother of LaVang, Mother of God and our most loving Mother, pour out your abundant blessings upon your children who earnestly implore you. Give us a heart of compassion and charity to build a culture of love and of life.
Help us to live lives of virtue and hope, so that we may enjoy eternal life and the happiness of the Trinity with you for all eternity. Amen.