Novena to The Lord of Miracles
Prayer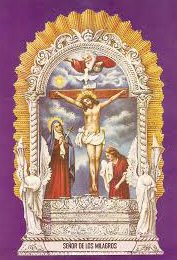 Bless us now and forever, Lord of Miracles in our illnesses and in our necessities, in our trials and desolation, and in our weaknesses and misfortunes.
Hear our voice, attend our prayer, assist us quickly in our favor and of our families and of our temporary and eternal interests.
In YOU we trust Lord of Miracles and in Your infinite mercy we hope to reach the remedy in our necessities.
Lord of Miracles in You we trust. Amen.
Repeat for nine days.