Index
Novena Prayer List
<![if !supportLineBreakNewLine]>

Novena to Saint Jude<![endif]>
(Say once a day for nine days)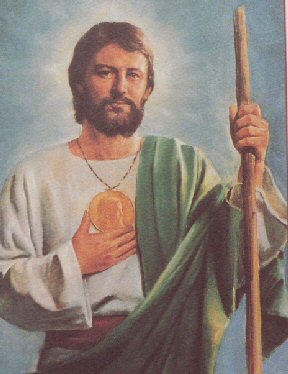 Most Holy Apostle, St. Jude Thaddeus, faithful servant and friend of Jesus, the name of the traitor who delivered your beloved master into the hands of his enemies has caused you to be forgotten by many. But the Church honors you, and I invoke you as the special advocate of those who are in trouble and almost without hope. Help me to realize that through our faith we triumph over life's difficulties by the power of Jesus who loved us and gave his life for us. Come to my assistance that I may receive the consolation and succor of heaven in all my needs, trials, and sufferings, particularly, (make your request) and that I may praise God with you and all the saints forever.
(Repeat six times a day; for nine days)

May the Most Sacred Heart of Jesus be adored, loved in all the tabernacles until the end of time. Amen.
May the Most Sacred Heart of Jesus be praised and glorified now and forever. Amen.
St. Jude Pray for us and hear our prayer. Blessed be the Sacred Heart of Jesus.
Blessed be the Immaculate Heart of Mary.
Blessed be St. Jude Thaddeus in all the world and for all eternity.
Our Father, who art in heaven, hallowed be Thy name. Thy kingdom come, Thy will be done on earth as it is in heaven. Give us this day our daily bread; and forgive us our trespasses, as we forgive those who trespass against us; and lead us not into temptation, but deliver us from evil.
Hail Mary full of grace; the Lord is with Thee; blessed art thou among women, and blessed is the fruit of thy womb, Jesus. Holy Mary, Mother of God, pray for us sinners, now and at the hour of our death. Amen.
Index
Novena Prayer List
<![if !supportLineBreakNewLine]>

<![endif]>
<![if !supportLineBreakNewLine]><![endif]>