Index
Novena Prayer List
<![if !supportLineBreakNewLine]>

Novena to Saint Jude<![endif]>
(Repeat for nine days)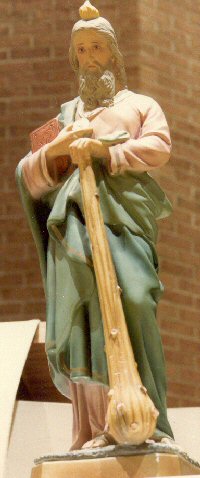 Holy Apostle, St. Jude Thaddeus, you are rightly venerated for your work of preaching the gospel and for your faithfulness to Christ by a martyr's death. Assist us, St. Jude, to preach the good news of Christ by our example and to remain steadfast in His service, as you were in all our earthly trials.
You are celebrated, St. Jude Thaddeus, cousin of our Lord and Savior, as the patron of hopeless cases, and in things almost despaired of. Pray now for us, St. Jude, and help us in our most pressing need. By your goodness give us prompt relief in tribulation and suffering. We glorify your name always for your mercy and compassion to those in difficulty. Amen.
May the mercy, peace, and love of God be ours in fullest measure.
St. Jude Thaddeus, holy apostle, and cousin of Christ, we venerate your name and honor you for your fidelity to God's call and for your labor of teaching and preaching His word. By your powerful intercession, please assist us in our pressing needs, help us grow in the likeness of Christ, and keep us faithful to Him until death. Amen.